Iconic Sydney, choked in bushfire smoke, is swamped in some of the most atrocious air on Earth. At certain times of day, it is literally the worst.
On Monday night, some areas in Australia's most populated city had air pollution levels, known as the Air Quality Index (or AQI), that were a whopping 11 times that of the hazardous level, which is already the worst rating possible. On Tuesday, Sydney remained awash in hazardous air. This is largely due to burned-up particles, broadly known as "particulate matter," saturating the air.
Anthony Wexler, an air quality researcher at the University of California at Davis, is appalled.
"The bigger story is climate change," said an exasperated Wexler, noting a growing trend in terrible air quality caused by climate-enhanced wildfires. "I mean, come on."
Australia, like California, has always had wildfires. But what's changed in both places is the frequency and intensity of the fires as the planet has relentlessly warmed over the last century. Hotter climes mean more conditions ripe for flames.
"The intensity and frequency of fires is insane," said Wexler. "That's the story."
"The frequency and severity of fire weather has increased over recent decades," noted Australia's national science agency, the Commonwealth Scientific and Industrial Research Organisation (CSIRO). "We predict many regions will see a significant increase in the highest levels of fire danger in the years ahead."
"The intensity and frequency of fires is insane."
"What is happening is extraordinary," David Bowman, director of the Fire Center at the University of Tasmania," told Science last month, specifically in reference to the historic early-season blazes in the state of New South Wales, which is home to Sydney. "It would be difficult to say there wasn't a climate change dimension. We couldn't have imagined the scale of the current event before it happened. We would have been told it was hyperbole."

Robert Rohde@RARohde · Dec 10, 2019
The air pollution in Sydney, Australia has spiked into the "Hazardous" range on the US EPA rating scale.

These are the highest air pollution levels seen in the city since the bushfires began. #NSWfires http://berkeleyearth.lbl.gov/air-quality/local/Australia/New_South_Wales/Sydney …


With readings during the last hour of fine particulate matter over 400 μg/m³, Sydney, Australia currently has the misfortune of being the city with the worst air pollution being measured anywhere in the world. #NSWfires http://berkeleyearth.lbl.gov/air-quality/CityAverageList.php?mode=1 …

7012:59 PM – Dec 10, 2019Twitter Ads info and privacy80 people are talking about this
just a casual 11 times the 'hazardous' level in Sydney city. Normal stuff!!! https://www.dpie.nsw.gov.au/air-quality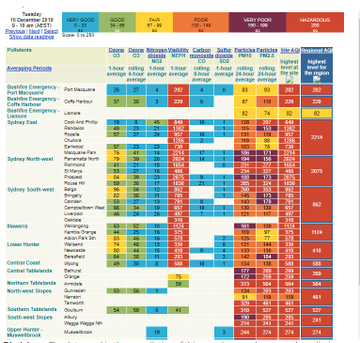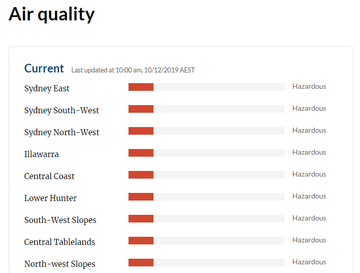 1,0346:40 AM – Dec 10, 2019Twitter Ads info and privacy690 people are talking about this
The consequences of burning things, like trees and houses, is terrible for breathing. It creates fine particulate pollution, often many times thinner than a strand of human hair. Both U.S. government and university researchers have repeatedly shown that breathing this stuff is bad for your heart. It's linked to an acceleration of plaque build-up in blood vessels.
The particles can enter one's bloodstream, explained Wexler, burying themselves inside walls.
"There is a strong epidemiological association between smoke and respiratory and cardiovascular health," said Tasmania's Bowman. "A huge fraction of the population along the east coast — maybe a third of the total Australian population of 25 million — has been exposed to dangerous smoke levels."
Arial footage of Sydney on Monday showed buildings, bridges, and neighborhoods blanketed in, or even hidden behind, clouds of dense, hazy particulate matter.

News Chopper footage from Sydney this morning. Credit (ABC)3097:06 AM – Dec 10, 2019Twitter Ads info and privacy279 people are talking about this
Spot the difference. The usually amazing view from Bloomberg's rooftop obscured by choking bushfire smoke.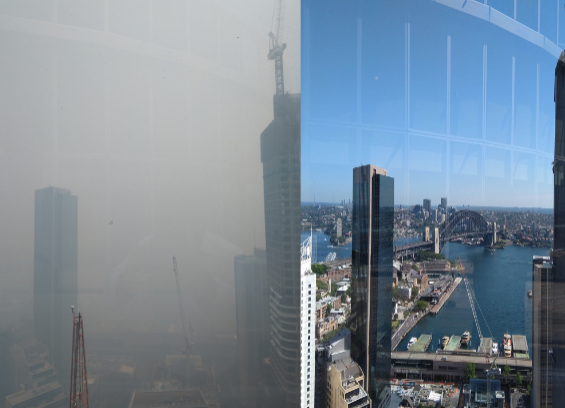 The indisputable cause of Earth's warming that's driven a surge in wildfires is the unnatural amassing of carbon in the atmosphere.  
Earth's atmospheric carbon dioxide emissions are now skyrocketing. CO2 levels haven't been this high in at least 800,000 years — though more likely millions of years. What's more, carbon levels are now rising at rates that are unprecedented in both the geologic and historic record.